First and foremost: Thank you to the amazing Chapter Members, our new friends, who made this Community reunion truly memorable!
I find myself overcome by the variety of positive adjectives to describe our interactions on the evening of February 24, 2022 : amusing, inspiring, fascinating, educational and even simply delightful. The remarkable truth is that these adjectives have followed me - or rather reappeared - across countries, continents and cultures.
After founding the Munich Chapter in 2020 and organizing more than 25 events in Germany, including international collaborations and globally attended events, I am no longer surprised when greeted by friendly faces, either on-screen or at event doors. In this global community, it has become a standard expectation and reality.
Nonetheless, while preparing to host the first Boston Chapter event since 2019, together with my co-Organizer, Charishma Puli, freshly arrived from India to continue her studies in Boston, we were admittedly nervous to receive a new city - even country - as guests. The Boston Chapter was previously very active before COVID-19 hindered and halted in-person meetings and we were eager, as new organizers, to offer an entertaining event to show new and returning members that they could expect a continuation, or hopefully an evolution, of past engagement. Naturally, any anxious concerns quickly subsided with one handshake, fist-bump and mask-covered smile after another. It was quickly apparent that the same warmth that was present within the community in Europe and globally through our webcams could also be expected here.
For our first event, we reserved space in the Cambridge Innovation Center (CIC) HQ, an office building with offices and co-working spaces filled with startups, global brands, organizations and entrepreneurs. We secured a giant kitchen next to the game room, where we relaxed by playing ping-pong and cornhole as the attendees rolled in. In the kitchen, we enjoyed a buffet of Indian and Mexican cuisine from Charishma and me, accompanied by beer and wine from our community members.
A shaky picture while returning the serve. We definitely have an all-star team in Boston! Tournaments will likely follow in the future.
The spirit of the HBS Online Community spread and grew as members shared experiences and knowledge from courses, work, passions and past events, while also imagining ideas for future events, which we aim to host monthly. A highlight that we all shared was an enlightening rap recital from Collins Ero (Preachermafioso on Spotify), a Nigerian-American afrobeats musician and lyricist.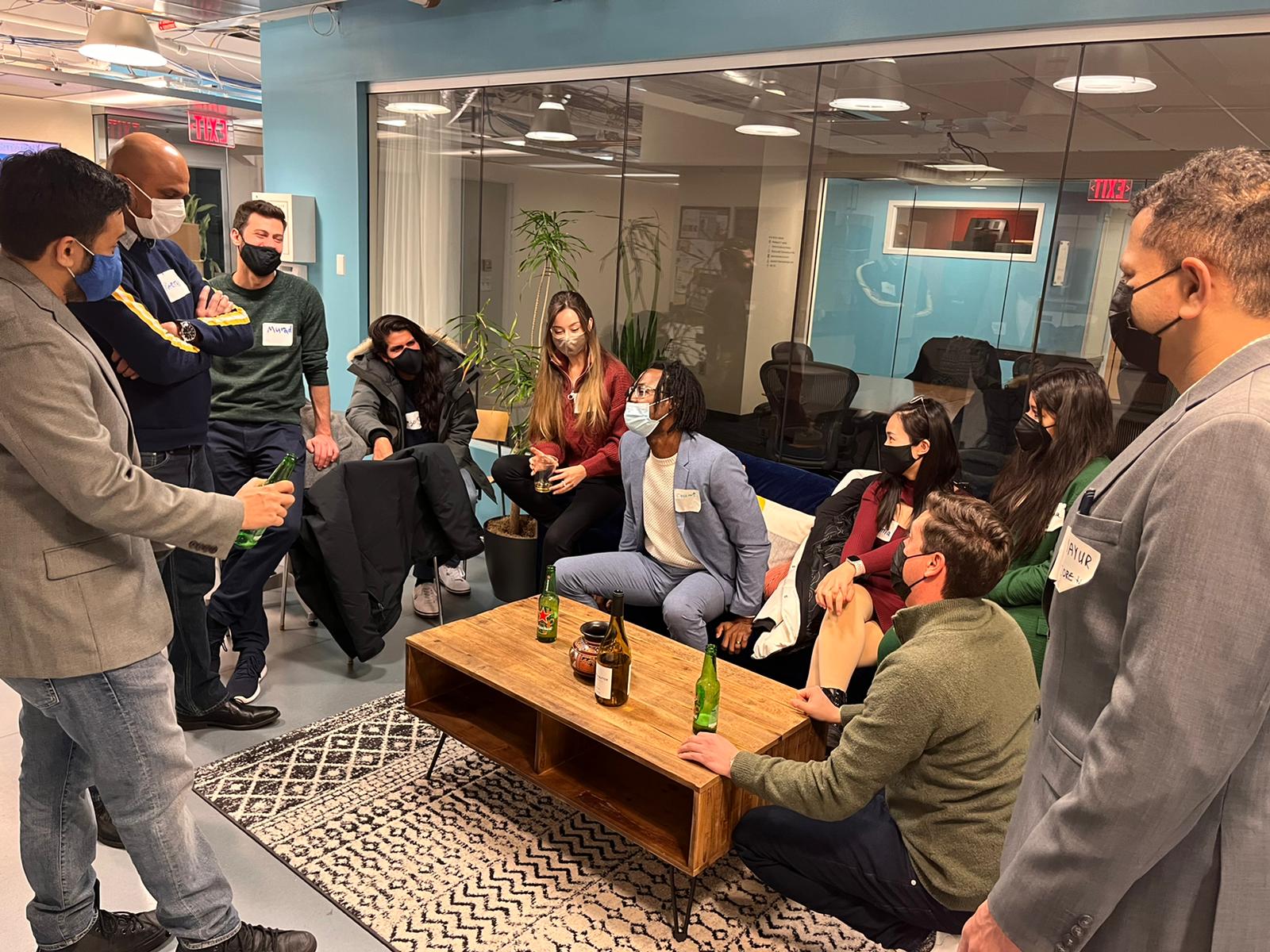 This event was a reminder that, in addition to the universal spirit of this remarkable community, the truly refreshing quality is the blend of diversity and talent present in each individual member, which ultimately creates the collective experience of each Community event.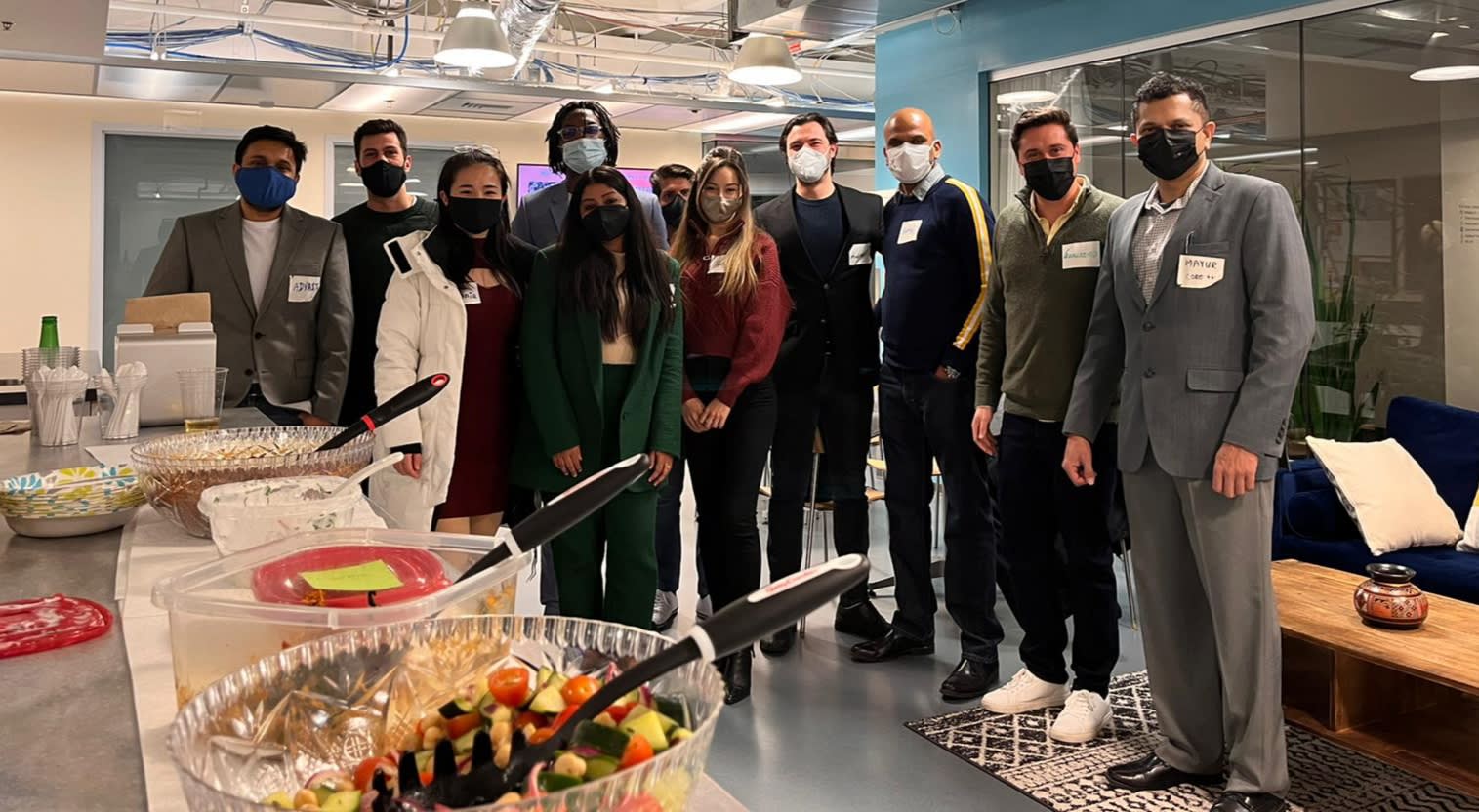 Left to right: Advait, Murad, Sonia, Collins, Charishma (Organizer), Alonzo, Aleksa, Andreas (Organizer), Parthi, Guillermo, Mayur
At the end of this post, I have found my perfect adjective: Refreshing. From imagining to planning, sharing, experiencing and recalling community events, I feel refreshed by the activities and people involved. I am curious to learn what word other attendees would choose and look forward to our future events together. We already have several exciting plans - keep an eye out for email and WhatsApp updates!
Be sure to join the Boston Chapter for future events!